Panorama looking southward over Hill Ranch towards San Pablo Bay, taken by Carleton Watkins circa 1887.
History
The story of Old Hill is very much shaped by the histories of California and of Sonoma Valley, 
from the Bear Flag Revolt, through Prohibition and into the modern era.
1823
The Mission San Francisco Solano was built in Sonoma, founded by Father José Altimira and named after a 17th-century Franciscan missionary to South America. The Mission was officially dedicated on April 4, 1824.
1846
At dawn on June 14th in the small town of Sonoma, thirty-three heavily-armed Americans pounded on the door of General Mariano Guadalupe Vallejo's home, demanding that the General come out and surrender Alta California. These men, who were as rough and tumble a group as one could imagine, were rebelling against the Mexican government and had proclaimed California as an independent republic. The General, in his response, donned his dress uniform, opened the door and invited the men in for breakfast and some of his "Mission" wine. Fortunately for the General, these men were not wine connoisseurs, and the Bear Flag Revolt ended without a shot being fired. Sir George Simpson, a British explorer, made what must have been Californias first wine review when he wrote of Vallejo's wine "Politeness alone induced me to swallow it."




Sir George Simpson, the British explorer, said of wines made from Vallejo's Mission grape, 'Politeness alone induced me to swallow it.'
1847
California became a US territory through the signing of the Treaty of Cahuenga by the Californios (Spanish-speaking residents of California).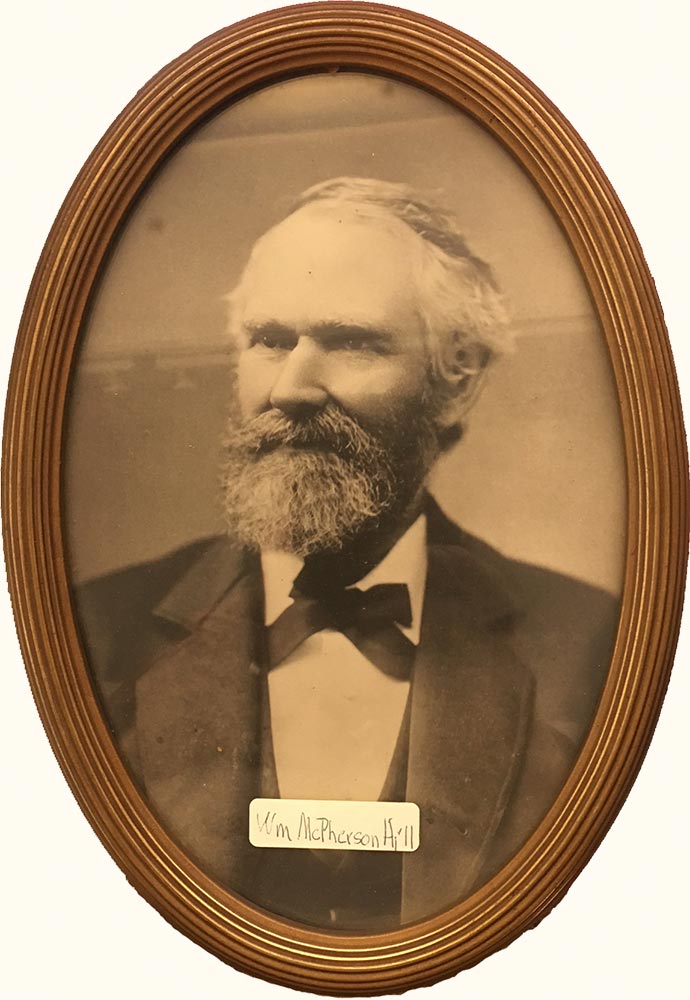 William McPherson Hill portrait (1822-1897), date unknown
1848
Upon news of the discovery of gold at Sutter's Mill in California, William McPherson Hill, founder and namesake of Old Hill Ranch, set sail on a seven-month voyage from Philadelphia to stake his claim in the soon-to-be-formed state. Hill arrived in San Francisco on August 3rd, 1849. San Francisco's population was increasing at the astronomical rate of 25% per month, and Hill recognized that much greater profits—with far less labor—were to be found in supplying the necessities of the miners than actually mining; good libations were in short supply, so he started a mercantile company.
1850
On September 9th, California became a state.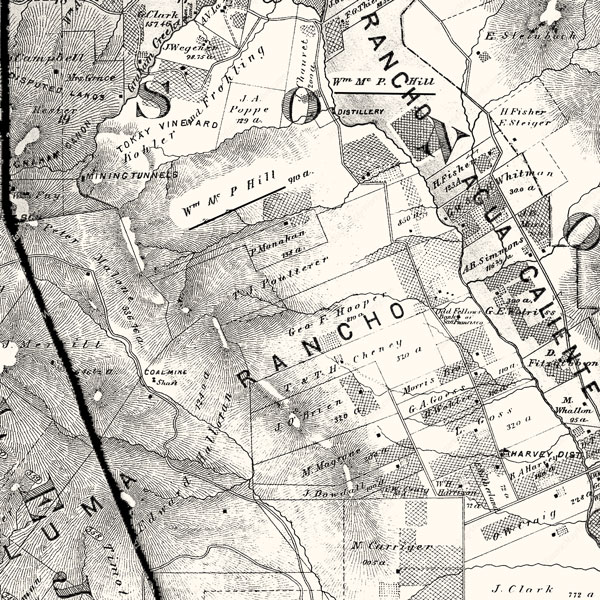 Map of Sonoma Valley published in the 1877 Atlas of Sonoma County.
1852
Hill purchased his ranch in Glen Ellen from General Vallejo and began planting peach orchards and vineyards. The vineyards were planted to grape varieties that Hill had specially imported from Peru; these were the first non-mission grapes planted in Sonoma. Hill was also the first to grow peaches in Northern California which he is recorded as selling for two dollars apiece – that's a $30 peach today!




"Hill planted the first non-mission grapes in Sonoma…"
1856
Hill was known to also be growing the grape variety "Black St. Peters," a variety prized for its fruit intensity, acidity and color. This Black St. Peters is actually "Zinfenthal."
Charles Sullivan, author of Zinfandel – A history of a Grape and its Wine, asserts that Hill made California's first famous Zinfandel. The Alta California claimed that Hill's 1866 vintage would take first at the national exposition, and Thomas Hart Hyatt, publisher of the Pacific Rural Press, reviewed the wine:
"We sampled a bottle of wine from the cellar of Wm. McPherson Hill made from the Zinfandel grape, a new variety that is growing in favor with winemakers…The wine was pronounced by the gentlemen who tasted it to be superior to any they had seen in the state."




"Charles Sullivan, author of Zinfandel – A history of a Grape and its Wine, asserts that Hill made California's first famous Zinfandel."
1868
The demand for Zinfandel began to increase rapidly, and by 1870, bulk Zinfandel was fetching twice that of Mission clarets. Zinfandel was in the throes of its first renaissance.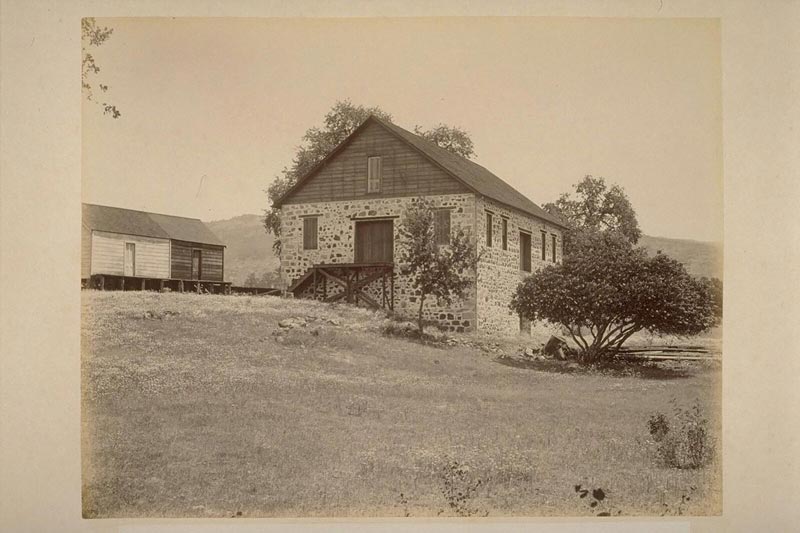 Winery of Hon. William McPherson Hill by Carleton Watkins circa 1887
1872
Hill reported to have 75 acres of vines (Pacific Rural Press) and 10,000 gallons of wine. It is unclear if this is the yield from 1871 or the total on hand from all vintages. This equals the yield from about 70 tons of grapes, or 35-70 acres depending on the maturity of the vineyard.
1873
Russian River Flag reported that Hill was growing 53 varieties of grapes.
1875
Hill served as State Senator.
1883
Hill served on several local boards, including Vice President of the State Board of Viticultural Commissioners with Arpad Haraszthy and Charles Krug.
1897
William McPherson Hill passed away. The Press Democrat described him as "One of Sonoma County's Oldest Pioneers," saying "he was at one time one of the foremost orchardists and vineyardists in the state," and a "prominent Democrat."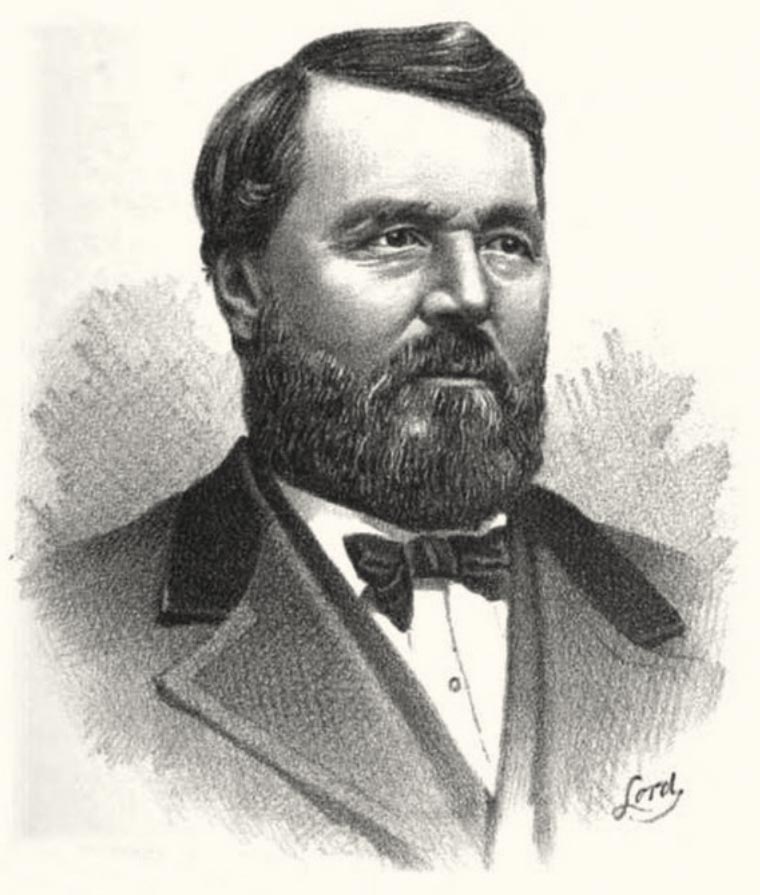 1898
Robert Potter Hill, portrait drawing above, William's son, moved onto the ranch and, we presume, managed the vineyard throughout Prohibition. That same year, Robert married Katherine (Kate) Donohue. The two of them lived at the ranch together for nearly thirty years. During his time at Old Hill Ranch, Robert's occupation was recorded as 'Farmer,' 'Grape Grower,' 'Fruit Grower,' and 'Vineyardist.'
1909
A tally book shows that Robert sold sixteen tons of Tokay grapes to Henry Chauvet for $5 per ton.
1911
The ranch was described as "devoted entirely to the raising of grapes and fruit, the former being disposed of to the winery."
1927
Robert died; Kate took over the farming.
1960s
In the years between the original William McPherson Hill dynasty and the ranch's eventual takeover by organic pioneers Anne and Otto Teller, the land became something of an eco-farming commune – complete with bacchanalian revelry fueled by homemade wine and a communal spirit emblematic of the age. Read more about this unique time in this firsthand interview with Patrick McMurtry, longtime resident.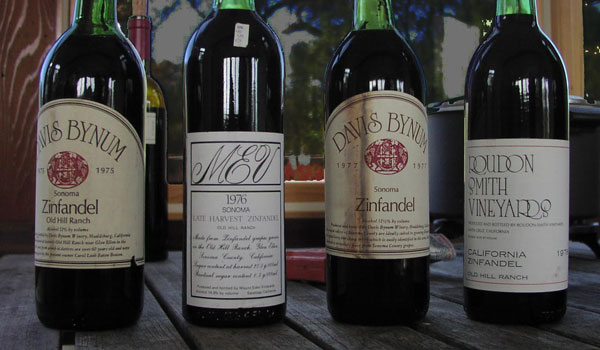 1970s
In the above image, Old Hill Ranch begins its run as single vineyard designate starting in 1975. Davis Bynum (1975 -1977), Mount Eden Vineyards (1978 $8.50), Roudon Smith (1978 - 1979); Topolos (1980 - 1983), Merry Vintners (1982), Ravenswood (1984 - current), Bucklin (2000 - current), Bedrock (2018) and Once & Future (2018).
1976
Congress passed the National Forest Management Act, which limited clearcutting and called for public participation in long-term forestry planning. Otto Teller founded the Sonoma Land Trust.
1983
Joel Peterson visited Old Hill with his mentor, Joseph Swan. He proceeded to purchase a few tons of Zinfandel from Old Hill for his new wine brand, Ravenswood, forging an important partnership with Otto, and Old Hill Ranch, that lasts to this day.
1992
Otto donates the development rights of Old Hill Ranch to the Sonoma Land Trust, protecting the vineyard in perpetuity.
1998
Otto passed away. Ted Bucklin, Otto's stepson and Anne's son, took over managing the ranch and hired Phil Coturri, renowned local organic grape farmer. Two years later, Will Bucklin moved back to the ranch to take over management, working with consultant Phil Coturri.



"a commanding figure in a grand old style of eccentric American outdoorsmen… Generous to a fault, prodigious in his creative and generative energy, and uncompromising in his devotion to the natural world and the quality of life."
2000
The four Bucklin siblings pool their resources to found Bucklin Winery, which makes wines solely from Old Hill Ranch. Will Bucklin manages the vineyard to this day, and continues the legacy by selling grapes to Ravenswood, and as of 2018, to Bedrock and Once & Future Wines as well.